PROTECTIVE WATERPROOFING AND ANTI CORROSIVE COAL TAR EPOXY COATING
UPGRADE BLACK SHIELD is a solvent free, high build thixotropic Coal tar based protective epoxy coating with high chemical resistance.
Outstanding Anti Corrosive Properties
Excellent Waterproofing Properties
Excellent Bonding to concrete surfaces
Outstanding anti rooting properties
Resistance to a wide variety of toxic chemicals
Effluent Treatment Plants in Industries For protective lining of storage tanks, silos and bund areas.
Protection of Mild Steel and Concrete Structures. Storage Silos in Industries.
Water Proofing for Water Retaining Structures, Sunken Slab, Basements and Underground Structures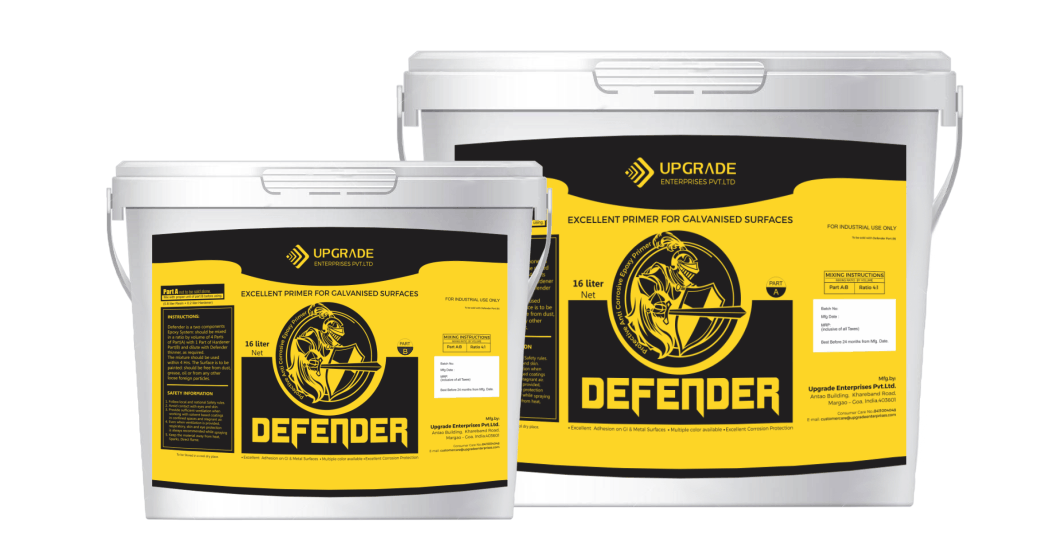 2-PART EPOXY COLOURED PROTECTIVE COATING
UPGRADE DEFENDER is an epoxy protective coating for GI surfaces.
Good chemical and mechanical resistance
Corrosive resistance
Resistant to oil and grease
Weather proof
Resistant to carbonation attack
Protect cementitious structures against weathering
Easy application
As an anti-corrosive coating on galvanized surfaces, sewage works etc.
Protective coating for concretes, cementitious mortars, steel, stones, wood, etc.
2-PART WATER BASED PROTECTIVE EPOXY COATING
UPGRADE DU'O SUPER WHITE is a water based, solvent free, odourless, epoxy resin protective coating.
Outstanding Water retention properties Good chemical resistance
Dries up to Primer Coat
Excellent Bonding to concrete and Wood surfaces
Solvent free
Applied on concrete, rendering, stone, asbestos and Cement for protective lining of storage tanks, silos and bund areas
Interior and Exterior primer coat to cementitious Walls
Primer for Wooden Surfaces
Easy to apply
SINGLE COMPONENT, WATERBORNE MODIFIED ACRYLIC/POLYURETHANE DISPERSION-BASED SURFACE COATING WITH A SEMI-GLOSS FINISH
UPGRADE AQUA PU 1K is a single component, coloured,waterborne modified polyurethane resin based surface coating containing an organic in-film preservative.
Easy to apply
Fast drying, two coats can be applied in one working day
Elastomeric, resists cracking and flaking.
Good resistance to repeated cleaning regimes using mild detergents and Cleaning solutions
Impact, scratch and abrasion resistant
Seamless, glossy, easy clean finish
Good covering and hiding power (opacity)
Coloured seal coating for internal walls and ceilings
For concrete, bricks, cement based and gypsum substrates, metallic surfaces, timber, tiles and plastic
Suitable for clean rooms in the pharmaceutical and medical industry. Also suitable for food and beverage industry, hospitals, healthcare facilities, kitchens, prisons and leisure facilities.
Maintenance layer on existing coatings.
WATER REPELLENT ACRYLIC PROTECTIVE COATING
UPGRADE AQUAPHOBIC is a solvated acrylic polymer-based coating for protection of cementitious substrate with improvement in waterproofing and abrasion resistance. It is applicable on absorbing tiles and concrete blocks for aesthetic look and longer life.
Single component & easy to apply
Economical
Highly penetrating into porous substrates to seal the pores
Prevent the growth of algae & fungi
Water Resistance
UV Resistance
Glossy finish
Cement Tiles
Brick Work
Masonry & Rendered Wall
Asbestos Cement Sheets
Concrete Blocks
2-PART EPOXY PROTECTIVE COATING
UPGRADE PH PROOF is a solvent free, high build thixotropic epoxy resin based protective coating with high chemical resistance.
Outstanding mechanical strength and qualities
Good chemical resistance
Liquid proof (according to the products chemical resistance table)
Easy application
Solvent free
Abrasion resistant universal coating material designed for normal to highly aggressive chemical environments
For protective lining of storage tanks, silos and bund areas
As an anti-corrosion coating in food and beverage processing plants, sewage works, agricultural, chemical and pharmaceutical plants, bottling plants etc.
UPGRADE FOOD PRO is a solvent free, odorless, epoxy resin protective coating.
Low viscosity and easy processing
Good curing characteristics and short dust-daytimes
Good mechanical strength and chemical resistance.
Solvent free
Applied on concrete, rendering, stone, asbestos and Cement for protective lining of storage tanks, silos and bund areas.
Is suitable for formulating solvent-free linings for metal or concrete containers for potable water and fat-free food stuffs.
Easy to apply.
Suitable for application in pharmaceutical, food processing industry.
UPGRADE SMART FINISHING WALL PUTTY
EFFLORESCENCE PREVENTIVE WALL PUTTY
UPGRADE SMART FINISHING WALL PUTTY is premium non-curing Wall Putty specially developed as a finish coat to
cover unevenness and pinholes in plastered surfaces and to make the walls/ceilings ready for painting.
It resists efflorescence in plastered walls. It is also highly water resistant. As it is white, it can be treated
as a base coat for painting.
Efflorescence resistant
Reduction in cracking
Excellent workability
Ease of use at site
Consistent work quality
Excellent, super smooth, super white finish
Reduction in cracking.
Suitable for interiors as well as exterior walls
Can be used on new as well as old walls/ceilings
Excellent bonding to the base plaster/concrete
SOLVENT BASED SILANE SILOXANE PRIMER
UPGRADE SUPRAPHOBIC is a Solvent based silane siloxane primer and penetrative water-repellent protective treatment for concrete and masonry. It works by penetrating into the pores of concrete and reacting there with the moisture / water vapour present to form a hydrophobic polysiloxane lining to the capillaries
Prevent ingress of water borne chlorides and sulphates.
Water vapor permeability unaffected; allows concrete to breathe.
Excellent penetrative / reactive action.
Integral protection, cannot peel off or erode.
Protects surfaces from discoloration and pollution.
Excellent water-repellent characteristics.
Easy to use, cost effective.
Simple spray application.
Single component, no mixing.
No change in surface texture or appearance
Subject to satisfactory field trials.
Compatible with solvated surface coatings.
Surface applied protection for in situ and precast concrete to prevent ingress of water and water borne salts.
Reducing efflorescence in masonry structures.